9 Start-ups ziehen in den brandneuen Microsoft Ventures Accelerator mitten in Berlin
Microsoft ist erfolgreich in Berlin gelandet. Das Dachgeschoss von Microsoft Berlin, das aus einem Cafe, einem Eventbereich und Büros für Microsoft-Mitarbeiter besteht, ist dabei für Start-ups und den Microsoft Ventures Accelerator reserviert. Zum […]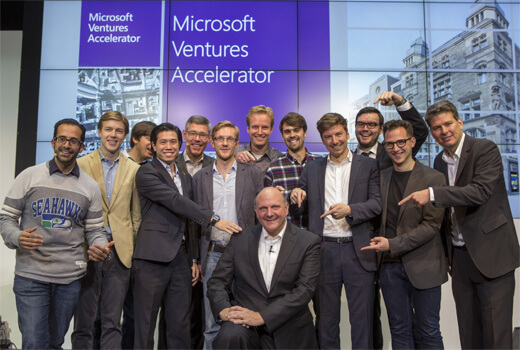 Microsoft ist erfolgreich in Berlin gelandet. Das Dachgeschoss von Microsoft Berlin, das aus einem Cafe, einem Eventbereich und Büros für Microsoft-Mitarbeiter besteht, ist dabei für Start-ups und den Microsoft Ventures Accelerator reserviert. Zum offiziellen Startschuss von Microsoft Berlin stellten Microsoft-CEO Steve Ballmer und Co. die erste Klasse des Accelerator-Programms vor, die aus neun Start-ups besteht.
"In keiner anderen Stadt spürt man den Pioniergeist und Innovationswillen so stark wie in Berlin. Wir wollen mit unserem Know-How und unseren Partnern das wachsende Netzwerk aus Unternehmen, Gründern und Kapitalgebern unterstützen. Wenn wir die Ideen der Start-ups in erfolgreiche Geschäftsmodelle umsetzen können, wird Berlin zum europäischen Silicon Valley", sagt Christian P. Illek, Vorsitzender der Geschäftsführung von Microsoft Deutschland. Der neueste Accelerator in der Liste der vielen neuen Accelerator-Programme richtet sich an Start-ups in der Seed- oder Start-up-Phase. Thematisch waren in den vergangenen Wochen Start-ups aus den Segmenten Software, Cloud, Internet oder Mobile gesucht. Aus über 300 Bewerbern suchte Microsoft gemeinsam mit Partnern wie dem High-Tech Gründerfonds und Seedcamp neun Start-ups aus. Die Teilnahme an dem viermonatigen Programm ist kostenlos. Im Gegensatz zu vielen anderen Accelerator-Programm müssen die Start-ups für die Teilnahme keine Unternehmensanteile abgeben.
Microsoft Ventures Accelerator: Die erste Klasse
Attaching.IT
Attaching.it (www.attaching.it) has built a secure and easy to use file transferring service where organizations feel confident to trust their data to.
Babbo
Babbo (www.getbabbo.com) recommends language learners real-life magazine-articles, videos and music tailored to their level of proficiency and interests.
Cringle
Cringle (www.cringle.net) offers a mobile solution to repay friends instantly. Straight between your regular bank accounts.
EvoMob
EvoMob (www.evomob.com) is developing a platform to easily convert online shops into touch optimized mobile shops, allowing our customers to adapt their desktop website for mobile without writing code.
Makeapoint
By combining the directness of video calling with the flexibility of discussion boards, Makeapoint (www.makeapoint.co) sets out to revolutionize online debates.
MyLorry
MyLorry (www.mylorry.com) connects customers with nearby couriers in real-time and lets you easily and instantly book & pay for courier services.
UnlockYourBrain
UnlockYourBrain (www.unlockyourbrain.com): Learning on your lock screen – getting better just like that. Learn languages, improve concentration skills and prepare for tests whenever you unlock your phone.
Sensorberg
Sensorberg (www.sensorberg.com) is providing an iBeacon Data Infrastructure that enables Apps to interact with places. iBeacons are the industries answer to NFC, low-powered, low-cost transmitters that can notify nearby smartphones of their presence. Sensorbergs platform is enabling proximity notifications and In-App Web content inside every App via their platform independent App SDK and Content API.
Researchcluster
Researchcluster (www.researchcluster.org) gets researchers access to equipment and knowledge they need to succeed by connecting demand to supply across labs/institutes.
Artikel zum Thema
* Microsoft startet Microsoft Ventures Accelerator – Im November können die ersten Start-ups einziehen