#Gastbeitrag
Travel report: Nomad Cruise – 10 days, 45 nations & 250 digital nomads
Die Nomad Cruise ist das Event für digitale Nomaden. Felix Bauer, derzeit mit warenkorb.com in der Digitalwelt unterwegs, wagte sich von Köln aus auf die Kreuzfahrt für Remote Worker. In einem Gastbeitrag schildert er seine Erlebnisse und Erfahrungen an Bord.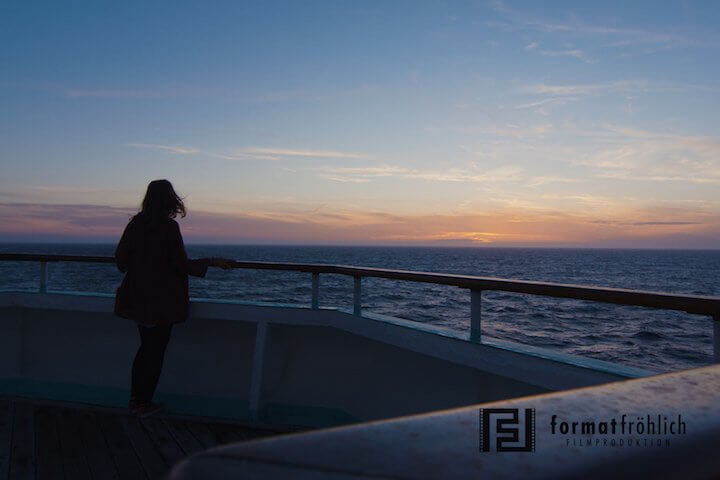 When it comes to boating, I'm still new to the world of cruises, or at least I was. A few months back, a fancy ad showed up on my Instagram feed: "Nomad Cruise 6, a 10 day cruise on the Mediterranean Sea, designed for remote workers." Although I have yet to become a remote worker with my Woogency–team, I live and love me some co-working, whether that be at STARTPLATZ in Cologne or in places like Jakarta, Jogja or Bali. With this in mind, and because I've always been interested in the trends of the digital world, I booked a ticket for the cruise.
On the 14th of April, 2018, in Málaga, I boarded the "Sovereign", one of the crown ships of the Spanish shipping company, Pullmantur. Outfitted with a wristband and badges that marked me as a participant of the Nomand Cruise, I went and found my cabin among the 12 decks. Was this single room a good choice? In retrospect, it's a definite yes for me! However, those who want to maximize networking and contacts should go for the better value shared cabins. The whole purpose of the Nomad Cruise (NC) is to meet up, connect, work together on MVPs and share knowledge as well as skills.
Johannes Voelkner, the administrator of the largest German digital nomads Facebook group, had made this unique format a reality for the sixth time. The previous cruises found themselves on the Atlantic, but with the shorter route from Spain to Greece, NC 6 proved to be more intensive. It offered a plethora of inspirational speeches, skill-sharing workshops, tailored excursions and activities that could all be savoured individually.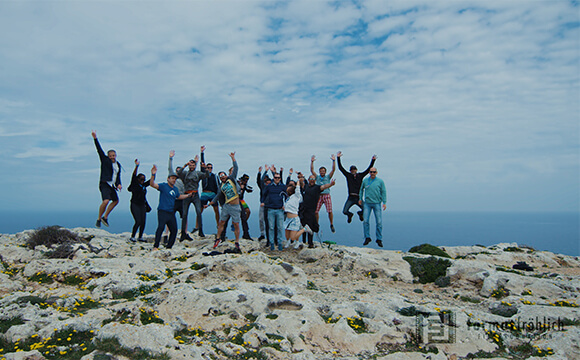 Buddies on board
That first night, before diving into the full program offered over the next ten days, I enjoyed countless mojitos at the bar on Deck 11 with the Spanish sun kissing my face. After sharing a cheers with the beautiful women next to me, I slowly began to forget the e-commerce & SEO consulting stress that https://felix-bauer.de/ brings with it. My first contact, the wonderful Ayesha Williams, turned out to be a real partner in crime over the last days, weeks and months.  It was clear that we were on the same wavelength after the second mojito!
Besides all the conversations, the kick-off night also offered plenty of chances to satisfy all curiosity and meet the other travellers.  Included among them were over 250 entrepreneurs, freelancers, shop owners, bloggers, remote workers and many more from various countries in the form of singles, couples and even a family with kids. There were ages ranging from 20 to 60 years old from 45 different countries. It seemed like there was a bit of everything with transnational trendsetters who are culturally, mentally and geographically mobile. All are connected online and offline. There were even non-conformists searching for new boundaries and solutions.
The ship's other passengers were classic vacationers. They were very interested in us and what we do, but we rarely came into contact with them because there was so much space offered exclusively for us. The atmosphere was hard to beat with experienced NC nomads as well as beginners extremely excited about what the next days had in store in the form of inspiration and connection. The wonderful cuisine and drinks also fuelled our excitement. Good food makes anyone happy and it doesn't get any better when it's all-inclusive! Organizer Johannes describes it best:
"…It is the best way to live because we don't have to worry about anything except being productive." (Johannes Voelkner from Nomad Cruise)
Tip: If not a native speaker, freshen up your English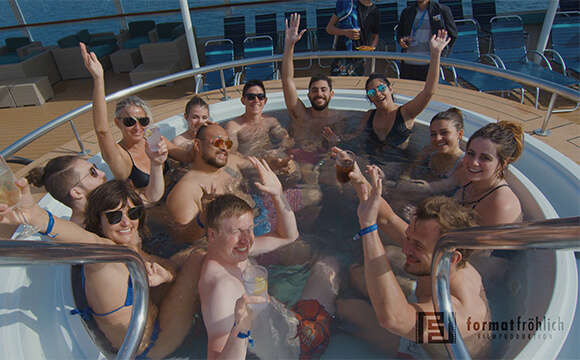 Everything that happens on the NC is communicated in English. For those who don't just want to talk with the approximately 60 (!) Germans on the trip like me (especially for workshops, speeches and other meetups), you should make sure your English is up to par. Mine was a bit rusty when I arrived, but everything was well-oiled once more after the first night, due to the many conversations and the help of a few mojitos.
For some people, the NC is a unique party on the Mediterranean. Others use it purely as a networking event. And some see it as a vacation. However, even though it means something else to each individual, everyone is interested in finding new companions. I mean this in the sense that the life of a digital nomad can be lonely. Family and friends are usually rooted in their respective places and it helps to find people who share the same nomadic lifestyle to be able to connect and share new experiences with them.
Tip: Bring your stickers (for Nomads) or fancy business cards
We are used to sharing our contacts via Facebook or LinkedIn, but high-speed WiFi can be a little iffy out at sea. That's why I suggest you bring stickers or business cards – and plenty of them. It may sound old school, but the handful I always carry with me were gone by the second night…
Full to the brim
Usually, a day at sea means pure relaxation in the form of doing nothing. However, the NC is different. The daily schedule is super ambitious for the three -day cruise. Every day there are six introductory speeches before lunch alone. After lunch,  various workshops are held, and dinner is full of speed networking sessions, meet-ups as well as 30-second pitches. No one is required to take part in all these things, but they're the whole reason for the NC! Topics of discussion is everything from the psychology of productivity, over health and investment to brand management. Many speakers, like Ayesah Williams, offered ideas, for example on how to optimize business independently of location. The mix has plenty to offer like SEO basics, personal productivity, crypto currency, branding, growth hacking, design thinking, virtual team building (one of my favourites with Lars Müller from solidmind.de) and many more. All of these are given in riveting talks like "Rowing the Pacific. The Power of Choice and Connection" (tba on Netflix) by Nathalia Cohen who brought both light to are eyes and tears to our cheeks. The goal is to offer an inspirational and emotional atmosphere for shared learning and personal development. And it's there. The NC program is not only inspirational, but provides hands-on know-how for practical use as well.
Due to the sheer amount of options offered on the NC, knowing yourself and your personal boundaries is a must. The organizers mention this often and I took their words to heart. The danger of impression overload is real. Even those not looking to overdo it can get caught up in all the growth and development potential offered. Just Keep the schedule in mind and take breaks when needed, and remember to take your time!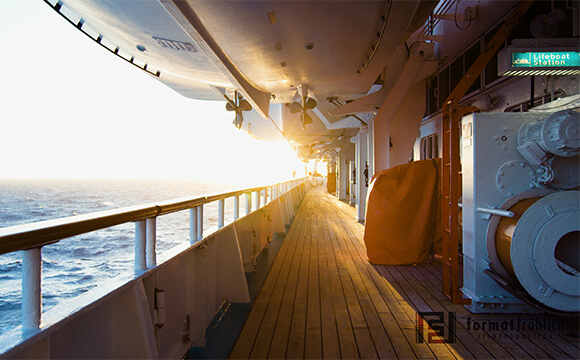 Magic Moments
We landed in Menorca on day three. I'm familiar with the bigger island Mallorca and wanted to see more of its smaller sister, but needed to make a few calls to my e-commerce & SEO consulting accounts. So I popped into a local library – and promptly got locked in during siesta! I ended up having to 'sneak' my way out from the second floor to get back to the cruise ship before it departed…
It's late in the afternoon and I am high. No, not some literary high from the Biblioteca, nor was it a drug-induced high, but instead it was the kind of high you get when you're just floating on the ocean with your feet in the pool drinking a mojito with Julia from https://wifitribe.co/ as you talk about her "Passion for the Tribe". The Tribe is what she lovingly calls her international community which is quite similar to NC, with a different goal in mind. The members of WiFi Tribe live and work together in a new city and a different country every month. The best part is that they decide where to go each time. This is a fast growing community that Julia built from scratch with her colleague Diego.
One of the most enticing parts of being a Digital Nomad is having the chance to see unique destinations all around the world while earning money. The NC 6 offered five days with excursions. The first stop was Menorca, followed by the islands of Malta and Crete, the beautiful cites of Katakolo, Nafplio and our final destination, Athens. Like on every cruise, many of the passengers go on land whenever the ship docks. Thanks to the wonderfully organized excursions, it is easy to learn more about the people and the country. You can also discover the cities on your own, check out co-working spaces or head into nature to work on and plan ideas with other Nomads.
Tip: Find the best WiFi in town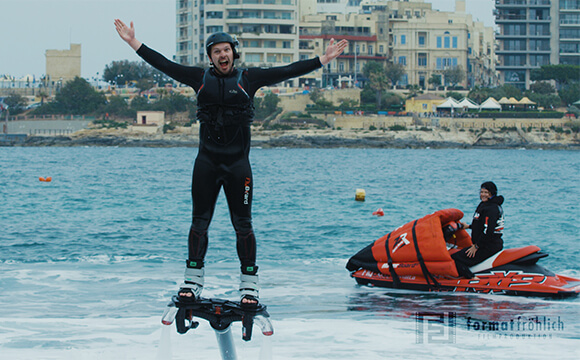 To satisfy my soft-spot for co-working spaces, I used an app Julia recommended, called Work Hard Anywhere, which helps you find the best WiFi connections in every city.
Dinner time is at 9:30 pm, and starting at 6:00 pm there is time for meet-ups, a workout, a visit to the sauna (get naked!), a jump in the pool or yet another cold drink as the sun sets. The unbelievable sunset brings the beauty of the hypnotized faces of your fellow passengers to light as the colours mix.
Dinner is served as a three course meal; top-level buffets are only found during breakfast and lunch. Both vegan and vegetarian options are available and  there are plenty of snacks to be found throughout the day. During dinner, everyone has a seating assignment to either continue conversations from earlier or to meet new people. While I am searching for Julia, I notice that the entire dining area is decked out with decorations and pineapples are everywhere. Someone even walks by me in a Hawaii button-down. Did I miss something? Oh yes, the themed dinner!
It makes sense to check all documents you received from the travel agency, especially if you're new to cruises. People who, like me, only check for the important stuff a few days before departure will miss important things. Though NC doesn't have a dress code, the ship does have a 'Tropical Night', '70s-party' and a 'Captain's Dinner'. Of course, I didn't have the proper attire for any of these events. #fail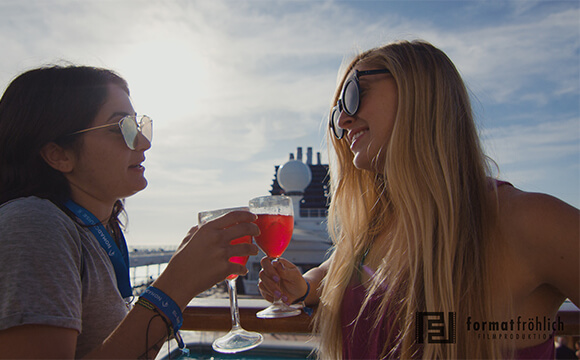 Simply Wicked
Before booking, my first question was "Will I have WiFi?" The answer: it depends. To keep up with business on the Mediterranean, the WiFi is 'ok'. It works great in port and with Julia's app , finding the necessary cafes and co-working spaces worked out great. The NC organizers are very open about the status of the WiFi: don't expect anything – appreciate everything! Those who need to stay connected throughout the day can book an additional package to be connected via satellite, but it is not the cheapest. For 12 € a day, you can be connected no matter where the boat is. Many found it best to just do a little digital detox and enjoyed the fact that it was part of the trip. I myself needed to get my fix, so on the third day I booked the online flat. I would recommend it for those who need to still get some serious business done while on board.
Tip: No ticket, can't wash it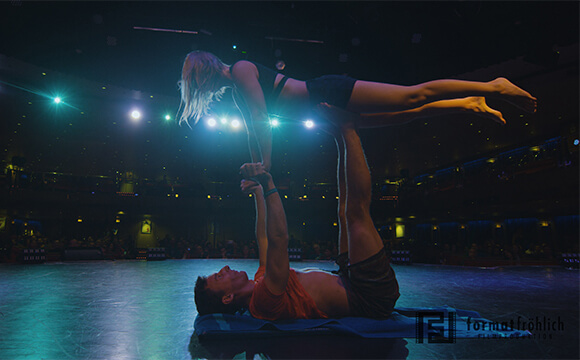 The price of the NC includes everything you need: room and board, conference program, taxes, fees, many of the excursions, and drinks. Not included are upgrades like the spa, exclusive drinks or the casino. When it comes to doing laundry, the most water used on board is for washing, which means the service is especially expensive. Either make sure to pack a little extra, or take advantage of the discount day toward the end of the cruise.
Bitter sweet
We were still underway, but the end was drawing near. With melancholy thoughts on having to leave, it was time to get down and party! The stage was set and we all met up for the closing ceremony in our NC-shirts for the group picture. Everyone was there because over the last nine days we had all become one large community. Then came the last dinner with a charity at the forefront. Giving money to a worthy cause is a tradition on the NC. This year, the organization Bye Bye Plasticbags was the reason to give – and a good one considering how much plastic lands in our oceans. We all happily supported the call to action "Come with open hearts and a full wallet to give back to the ocean that has given us so much".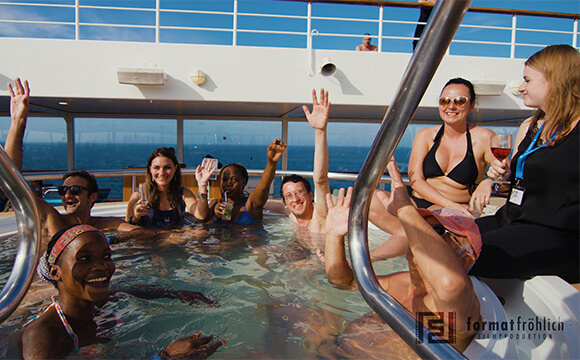 An important part of a celebratory dinner is a good glass of wine. As I looked at the menu, I realized I made a mistake in not doing so earlier. Wine lovers will be in awe of the wonderful selection: the Rioja and Pinot are definitely worth a recommendation.
With a heavy heart everyone had to accept that the club closes at 3:00 am. We only had a few hours before departing the ship in Athens. While non-Nomads headed home, we all left to continue our vacations either with sailing, a stay in the city or another destination altogether. A quick 'see you' was shouted before leaving with every intention of coming back.
With the earth under my feet again, I met up with my Greek friend Thomas, who runs a wonderful villa on Lefkada, https://lovekada.com/. He welcomed me like a true friend "Felix, you look great, what happened? Tell me everything…!"
A format like the Nomad Cruise is awesome, but there is a ton of things to take in. I would recommend taking some time afterwards to reflect on everything that happened. Just make sure not to run straight back to the office or the Digital Nomad lifestyle. You'll need time to sort through all your notes, documents and plans you've made with the other NC participants.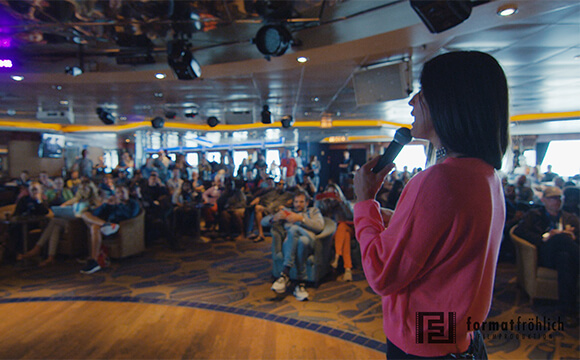 Intoxicating
I became part of a community that travels, works, is productive and has a ton of fun doing it. Who could ask for more? To be a Digital Nomad is more than a trend with a future, i.e. New Work. The Nomad Cruise is a platform to bring people with similar perspectives and lifestyles together, or for some to be spontaneous and soak it all in. Nomad Cruise is also great for non-mobile professionals to widen their horizons and take part in insightful workshops and conversations. This way, they too can become masterminds of every topic under the sun.
More information on Nomad Cruises can be found here, https://www.nomadcruise.com/.
All Images used in this article are from "Format Fröhlich Filmproduktion", so special thanks go out to the videograph Stephan Fröhlich from http://www.formatfroehlich.de/ as well as Drew from https://www.bike-components.de/ and Pia Newman from https://pianewman.com/ for the professional translation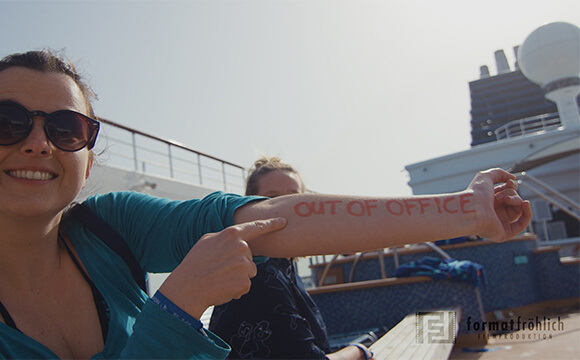 About the author
Felix Bauer has worked in the e-commerce field for over 15 years. At the moment he runs the e-commerce network warenkorb.com, located in the Cologne MediaPark. He also teaches at the Hochschule Fresenius in the "Electronic Commerce" department as well as consulting online shops as a freelancer for SEO and conversion optimization, and founded the WooCommerce startup woogency in 2017.
Startup-Jobs: Auf der Suche nach einer neuen Herausforderung? In der unserer Jobbörse findet Ihr Stellenanzeigen von Startups und Unternehmen.