Start-up-Radar: paymy
In Berlin entsteht derzeit paymy (wwe.paymy.de). Laut Eigenbeschreibung "Probably the easiest way to transfer money to friends. No transaction costs. No hassle". Zum Konzept heißt es auf der Website: "Just take your mobile […]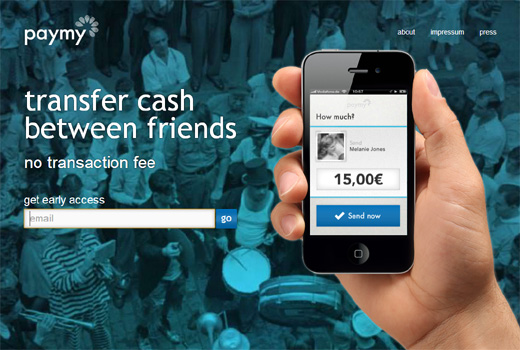 In Berlin entsteht derzeit paymy (wwe.paymy.de). Laut Eigenbeschreibung "Probably the easiest way to transfer money to friends. No transaction costs. No hassle". Zum Konzept heißt es auf der Website: "Just take your mobile phone. Go to our webapp (or download the Android app). Login with Facebook. You see the list of your friends. Pick one and enter the amount you want to send. If you haven't entered your bank data yet, do it once. We keep it stored totally securely. Then tap "Send": that's about it. Your friend gets a notification via email on how to receive the money. Within less than 10 minutes it is transferred (it might take a day to appear on the other account)".
Schon vor dem offiziellem Start hinterlassen viele Start-ups, die demnächst an den Start gehen wollen, erste Lebenszeichen im Netz. Alle diese Jungfirmen sammelt deutsche-startups.de im Start-up-Radar. Unser Start-up-Radar ist somit eine Liste mit Jungfirmen, die die Gründerszene demnächst bereichern werden. Start-ups, die in den nächsten Wochen das Licht der Welt erblicken und schon ein Lebenszeichen hinterlassen haben, dürfen sich bei uns melden.
Im Fokus: Artikel über Start-ups, die demnächst starten, gibt es in unserem Start-up-Radar
deutsche-startups.de gibt es auch bei Facebook, Twitter, Google+ und Pinterest. Sie können außerdem unseren brandheißen RSS-Feed oder unseren täglichen Newsletter abonnieren.