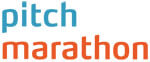 The third edition of the Pitch Marathon will be held on November 22nd, 2013 in Berlin. On one side, 42 top startups from across Europe will be pitching, and on the other side, a room full of great investors will be listening.
The goal of the event is to help European based startups to get in touch, build relationships and raise money from global investors.
We will host 4 one-hour pitching sessions, each with at least 10 startups presenting for 4 minutes in quick succession. In order to maximize the interaction between investors and founders we play a game, a very serious game. Investors will have a chance to meet with the founders between the sessions and reward their favorite startups with "Pitch Marathon Euro". At the beginning of every break each investor will receive 2 million "Pitch Marathon Euro". The startup with the most "cash" at the end of the event becomes the Grand Prize winner.
What happened at the previous editions?
pitch marathon .01: participating startups, media coverage & pictures on Facebook.
pitch marathon .02: participating startups & pictures on Facebook.
For further informations and tickets please click here.